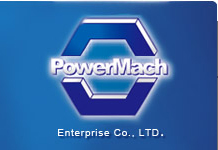 로고를 클릭하시면 POWER-MACH 사의 홈페이지로 연계되어 보다 상세한 정보를 보실 수 있습니다.
Click POWER-MACH LOGO and you can browse POWER-MACH homepage for further detailed information
POWER-MACH ENTERPRISE CO., LTD

1, Lane 366, Chung Shan Rd., Sec.2, Chung Ho City, New Taipei City

1. LED SMD Series Equipment--SD03 & SD05

2. HIGH POEWR Series Equipment--B006

3. LAMP Series Equipment--L025 & A023

4. Various types of Mold Cup
대만 Taipei에 소재한 Power Mach는 1982년 설립되어 대만에 본사와 제1공장, 중국에 제2공장(심천)시에 위치 하고 있습니다. LED 관련 Machine과 Mold cup을 주 생산하고 있으며 특히 LED Auto Encapsulate Machine은 수십 년간 쌓아온 Know-How로 타의 추종을 불허할 정도로 품질과 서비스에 완벽한 제품입니다.
Located in Taipei, Taiwan, Power Mach was established in 1982, since then it has also opened a second factory in Shenzen, China and currently has 130 employees. Their main products are LED related machines, especially LED Auto Encapsulate machine, and mold cups. Their accumulated know-how allows them the provide best-in-the-world quality and perfect service. POWER MACH's other products include: SMD Auto Dispensing Machine, Semi Auto Encapsulate Machine, Oil-press machine, 20 Lamp white-light dipping epoxy, and Piranha Led Encapsulate Machine. POWER MACH's recorded market share for these products is over 60%. POWER MACH also has a wide range of round, triangle, rectangular, and piranha LED Lamp Mold cups, with 600 different open tools and 200 different close tools. They have a monthly capacity 1.3~1.4KK which equates to a market share of over 65%.